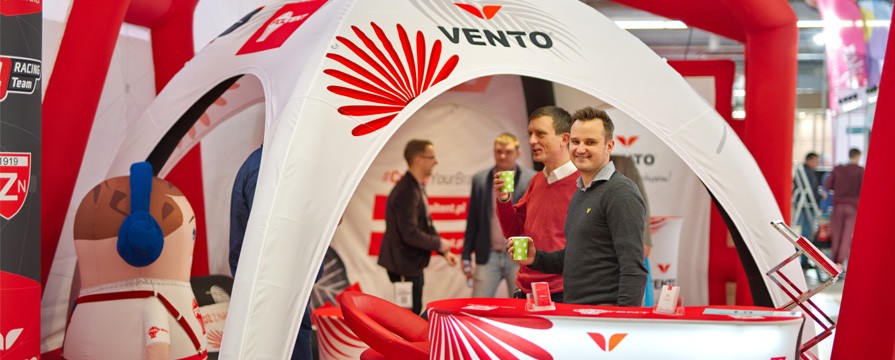 Effective time at Rema Days!
22.02.2019
RemaDays Warsaw is always a fascinating adventure for us. It was no different this time!
Once again we showed how to create a unique, complete booth with the help of inflatables, which like a spaceship can take visitors to conquer the universe! The huge hexagonal structure surrounding the centrally placed VENTO® tent, just like last year, attracted visitors even from the farthest corners of the world! Everyone knew where Poltent base was, and when they got to it they were happy to stay for longer!
Delicious coffee, served by our crew, could taste especially good this year. And it was all thanks to our new inflatable chairs and sofas that created the command center and a real relax zone! Who wouldn't like to have a drink with Mr. Balloon and watch his most beautiful moments of life on the tablet built into the inflatable table? Rally adventures, obstacle courses, banquets enjoyed by Mr. Balloon or stunts at the ski jump!? However, this was only part of the attractions prepared by us for this year's fair.
As always, there was so much more under our VENTO® tent! Our guests could check our new catalogs, see inflatable pillar at close range, test the counter for their events, but what is the most important, discuss all your event and advertising projects with our specialists! Our inflatable base turned out to be the real Portal of Joy again, both for us and for all our guests!
This year's RemaDays Warsaw will be in our memory for one more reason. On the first day of the fairs, at an amazing banquet prepared by the organizers, we received a honourable mention in the Crowns of Advertising competition! As if that was not enough, thanks to the votes of visitors of this year's Rema, we took third place in the Catalog of the Year competition! It is a great joy for us! We are happy that our work has been appreciated. This clearly shows that we are flying in the right direction!
Welcome on board!
#CreateYourBrand